High-End VIP Villas in Ibiza
10 villas available from 13th - 20th August
€7280 p/w - €60,480 p/w
VILLA ENCORE
5 Bedrooms | 5 Bathrooms | Sleeps 10
This stunning villa consists of 5 bedrooms and 5 bathrooms it is contemporary by design, bright and spacious. It is situated in a superb location with stunning views to Dalt Vila. The Marina Botafoch, Jesus and
Ibiza Town
are just 5 minutes away and the airport 10 minutes.
---
Available:
13th - 20th August
€7,280 p/w
VILLA ELEGANCE
8 or 12 Bedrooms | 8 or 11 Bathrooms | Sleeps up to 24
Villa Elegance is a true super villa set among a large estate with fruit trees and no surrounding neighbours. It is an exceptional property with 3 separate villas, perfect for large groups. With state of the art furnishings and decor, outstanding views and privacy, this villa is one of the top villas in Ibiza.
---
Available:
13th - 20th August
From €36,960 p/w
MORE VILLAS AVAILABLE

13th - 20th AUGUST
VILLA BEA SUNSET
4 Bedroooms | 3 Bathrooms | Sleeps 8
---
Available:
13th - 20th August
€5,600 p/w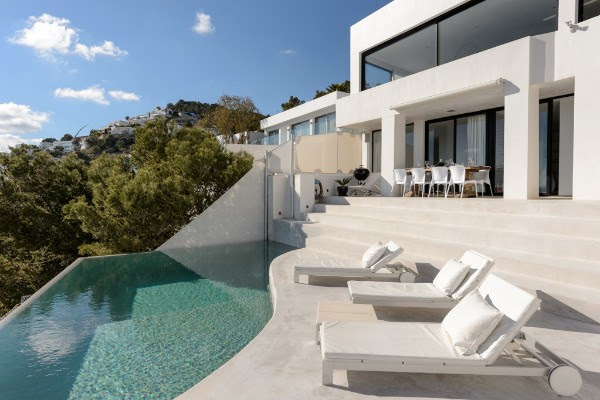 VISTA ROCA LLISA
5 Bedroooms | 5 Bathrooms | Sleeps 10
---
Available:
13th - 20th August
€16,464 p/w
CALA SALADA DELUXE
6 Bedrooms | 7 Bathrooms | Sleeps 12
---
Available:
13th - 20th August
€17,920 p/w
MARES
7 Bedroooms | 5 Bathrooms | Sleeps 14
---
Available:
13th - 20th August
€33,600 p/w
ROCA LLISA CLIFF TOP
4 Bedrooms | 3 Bathrooms | Sleeps 8
---
Available:
13th - 20th August
€11,088 p/w
VISTA SOL DEN SERRA
5 Bedroooms | 4 Bathrooms | Sleeps 10
---
Available:
13th - 20th August
€16,800 p/w
ALEGRE BELLE
5 Bedrooms | 5 Bathrooms | Sleeps 10
---
Available:
13th - 20th August
€25,200 p/w
VISTA AZUL
7 Bedrooms | 7 Bathrooms | Sleeps 14
---
Available:
13th - 20th August
€60,480 p/w
OVER 70 OTHER AMAZING VILLAS AVAILABLE FROM

13th - 20th AUGUST